Restful sleep is essential
Starts Shipping on January 7, 2022
Pre-order now at only $39 ($7 savings)
Peaceful sleep
Gentle
Wake up refreshed
Not habit forming
Not tranquilizing
Are you one of the millions of Americans who have trouble sleeping at night? I sure am; my creative mind switches on at night, but when I need rest, Dream really helps me shift out of work mode.
Going without true sleep is no fun, especially when we have a busy coming day. DREAM is composed of herbs that help us drift into "twilight revelry," where myriad dream images begin to settle our conscious thoughts, our worries, and our ambitions. Zizyphus, the roasted seed of the jujube fruit, gently nourishes relaxation and helps relieve anxiety. Scutellaria is revered for relaxing our nerves, and Pearl is "grounding." Polygonum stem also helps guide us into sleep state with a sense of safety. Albizzia flower is said to calm the heart. White peony root releases restless, pent-up energy, L-theanine is a well-known amino acid that promotes sleep, and Polygala is called the "will strengthener."
See DREAM and other formulas in my shop.
Sleep easy~
Rehmannia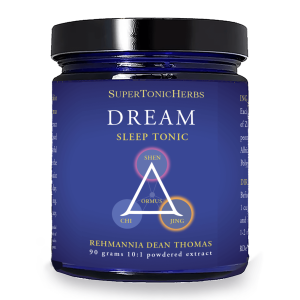 DREAM is a true ally promoting calm sleep without causing grogginess the following day. It is not habit forming. A cup taken 30 minutes before bed makes a pleasant tasting night-time tonic. Use only as directed, and enjoy peaceful dreams!
DIRECTIONS: 30 minutes before bedtime, take 1 slightly rounded teaspoonful in a cup of hot water. May add vegan milk and sweetener to taste. Over a few nights, you can adjust the amount you need for a restful, peaceful sleep.
INGREDIENTS: Zizyphus, White peony root, Polygonum stem, Scutellaria, Albizzia flower, Lohan quo, Bamboo, Schizandra, Pearl, L-Theanine, ORMUS
https://supertonicherbs.com/wp-content/uploads/2021/12/Dream_Blog.jpg
779
1200
Rehmannia Dean Thomas
http://rdeanthomas.com/wp-content/uploads/2021/05/rdt-logo-gry.png
Rehmannia Dean Thomas
2021-12-27 23:07:27
2023-01-13 20:30:38
Introducing DREAM: Peaceful Sleep Tonic